Having fresh flowers in your home or at a wedding is a great way to infuse color and add natural decoration. Unfortunately, fresh flowers can be expensive. The average bride spends around $10,000 on flowers alone. Could succulents help keep that cost down?
In some cases, succulents can be more expensive than flowers. You can often find pretty and colorful floral bouquets for the home for under $5, where a single succulent can cost upwards of $1.50 each. But when looking at events, adding succulents can be an inexpensive way to bulk out a bouquet and have it last. 
This article will look at the average cost of succulents and how they can change when buying online. We will also look at flowers for the home and wedding flowers, to find out if one is more expensive than the other. 
What is a Succulent Plant?
Succulents are a group of plants, typically with thick leaves that stores water. These plants thrive in dry climates and can last for some time without water. Most prefer warmer climates and are easy to propagate. In many cases, you can grow a new plant with the leaf of another. 
With more than 100 varieties, many have specific needs to thrive. Some common succulents include:
Acanthocereus tetragonus – Fairy Castle Cactus
Aeonium canariense – Giant Velvet Rose
Agave victoriae-reginae – Queen Victoria Agave
Aloe brevifolia – Short-leaved Aloe
Aloe vera – Medicinal Aloe
Aristaloe aristata – Lace Aloe
Ceropegia woodii variegata – String of Hearts
Crassula marnieriana – Worm Plants
Their appeal stems from their ability to survive underwatering. Unlike most houseplants, you can forget to water your succulent for a time, and it won't die. Of course, if left long enough, it will, and if overwatered, the roots will begin to rot. But when watered just enough, your succulent should last many years. 
Cost of Succulents 
With their rise in popularity, you can find many different succulents, both potted and not. In some cases, they are encased in glass terrariums with decorative seagrass and moss. 
When looking to purchase succulents for your home, you can find various succulents in most home improvement stores. There are also specialist vendors online that will send you an assortment. Unlike flowers, it is not as common to see succulents for sale in local stores. 
Let's compare the pricing for various succulents from an online supplier, a large chain home improvement store, and a local nursery. 
| | | | |
| --- | --- | --- | --- |
| | Online Supplier | Home Improvement Store | Local Nursery (Austin TX) |
| Aloe Succulent: 3.5 inch | $7.95 | $6.83 | $6.99 |
| 3-pack potted basic | $11.48 | $12.99 | $5.99 |
| 100-pack assorted | $149.95 (cuttings) | $214.11 | n/a |
| Pre-made/kit  | $37.95 | $57.01 | $41.30 |
As you can see from the above table, the cost of some single succulents is quite high. Though these look effective potted alone, if you wanted to make a more permanent piece, you would need to purchase several plants, along with soil and a pot to hold it all. 
Cost of Flowers
Fresh flowers are available for purchase everywhere, from gas stations to drug stores. A simple bouquet can cost as low as a few dollars and is an easy way to brighten up your home. Some benefits of fresh flowers include:
Mood booster
Reduced stress
Some can help you sleep (lavender)
Unfortunately, if you wanted something bigger or with more variety, you would normally need to go to a specialist store or florist.  
Using the prices at a large retailer, you can see quite a big price difference depending on what you're looking for: 
| | | | |
| --- | --- | --- | --- |
| | Rainbow Bouquet | Fall Bouquet | Tropical Bouquet |
| Size | 15 stems | 31 stems | 21 stems |
| Type | Lilies | Assorted | Assorted |
| Price | $29.98 | $52.98 | $63.98 |
| | Rainbow Bouquet | Fall Bouquet | Tropical Bouquet |
As you can see, when looking beyond the cheaper option in local stores, a bouquet can become quite expensive. The vast majority of bouquets will last between one and two weeks, whereas succulents can last years. 
Wedding Costs
When it comes to flowers for a wedding, you can reduce the cost by choosing simpler options and cutting back on decorations. Typically, you might expect to see flowers in many styles, including but not limited to:
Bride's bouquet
Bridesmaids' bouquet
Groom's lapel
Corsage
Flower girl petals
Alter flowers
Centerpieces at reception
Flowers with the guest book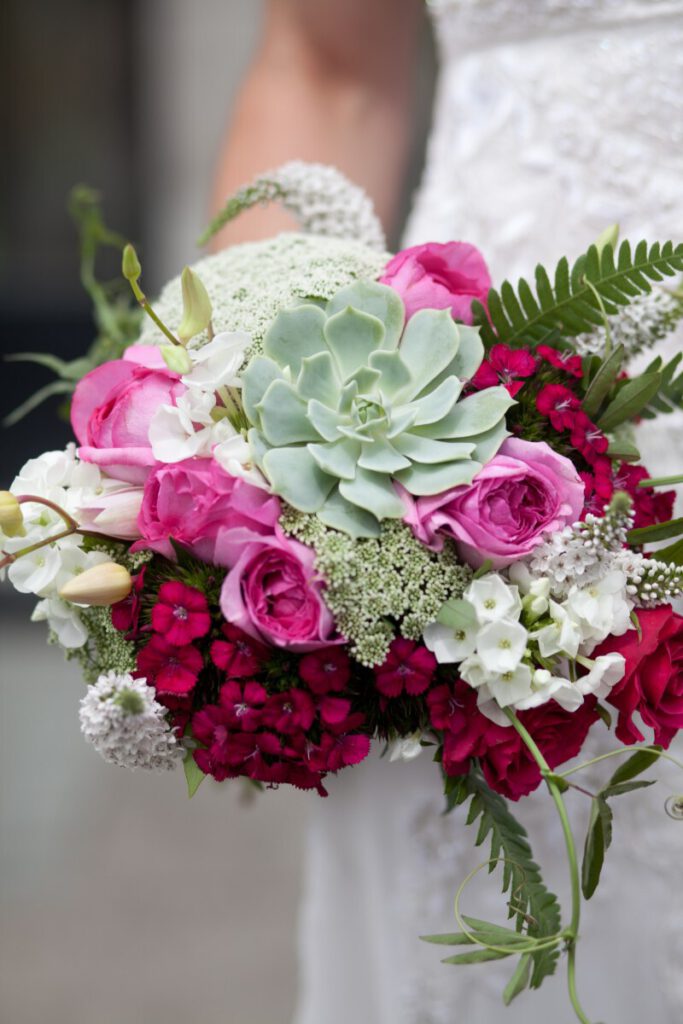 Considering these alone, according to Brides.com, you would be expected to spend at least $1,000, if not more. When looking at going all out, the cost will be significantly higher. 
Let's compare some costs for flowers, along with similar-sized artificial options and potential succulents. 
| | | | |
| --- | --- | --- | --- |
| | Succulents (Etsy) | Silk Flowers (online retailer) | Local Retailer (Austin TX) |
| Bride's bouquet | $130.39 | $50 | $275 |
| Bridesmaids' bouquet (single) | $42.23 | $34 | $145 |
| Groom's corsage | $18.77 | $10 | $15 |
For these five wedding essentials, the cost to use bespoke succulents would be close to $400 (with only one bridesmaid). For fresh flowers, you would be looking at closer to $1,000. Not only is it significantly more expensive, but fresh flowers will also only last about a week. 
In many cases, people take home the centerpieces, meaning the bride and groom often only take home the bouquet and groom's corsage. Though you were to use succulents, they could be planted as a year-long reminder of your special day.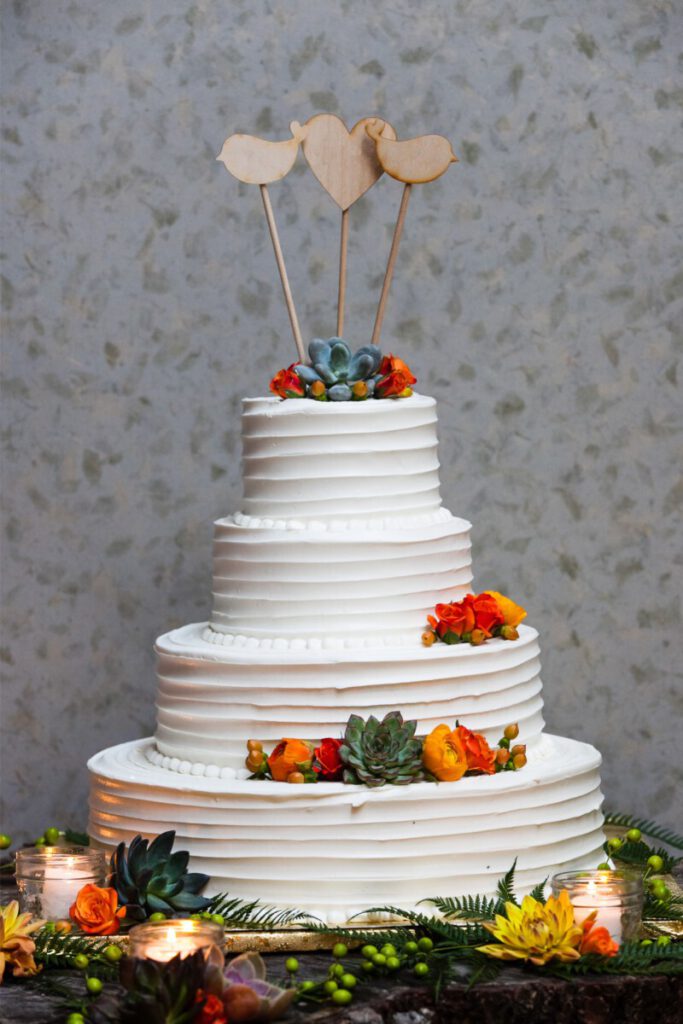 The cost of silk and/or artificial flowers is significantly lower than the other two options. If looking to save some money, this would be an excellent option. You can even order a sample to see the product's quality before purchasing for your whole wedding party. 
The Caveat
Nothing can compare to fresh flowers. Their vibrant colors and floral scents will brighten your home, office, event, or wedding like nothing else can. At home, a simple and inexpensive bouquet can cost as little as $20 a month. If you want something bigger, you might be looking at closer to $100 a month. 
Though the initial cost of succulents, their soil, and a nice pot might seem like a lot, they will last so much longer than anything else you could choose. They can be colorful and will add greenery to your home that will live for years. Rather than $100 a month, you could spend $100 once and decorate your whole house with succulent planters. 
For events and weddings, a combination of the two would be a great way to save some money, still have the vibrancy and beauty of fresh flowers, and also get to have a keepsake for years to come. 
A beautiful bouquet of flowers mixed with succulents can cost upwards of $50. But these include succulents that you can then plant once the flowers begin to fade. A succulent and floral bouquet can cost as little as $70 for your wedding and will include strikingly colorful flowers as well as unique succulents that you can then plant and keep. 
Conclusion
The cost of a basic, small bouquet in a local store could be as low as $2.99. Compare this to the cost of a single succulent under $2; you might be tempted to choose the flowers. 
But when you take into account that succulents will last for years, you will see that they are an investment. Though they may not be as vibrant as a bouquet of flowers, they will add greenery to your home, and their planter can be very beautiful. 
When looking to keep costs down at a wedding or event, consider a combination of the two. You will get the bold colors and wonderful scents from fresh flowers, along with potential keepsakes that can be kept and re-planted at home.